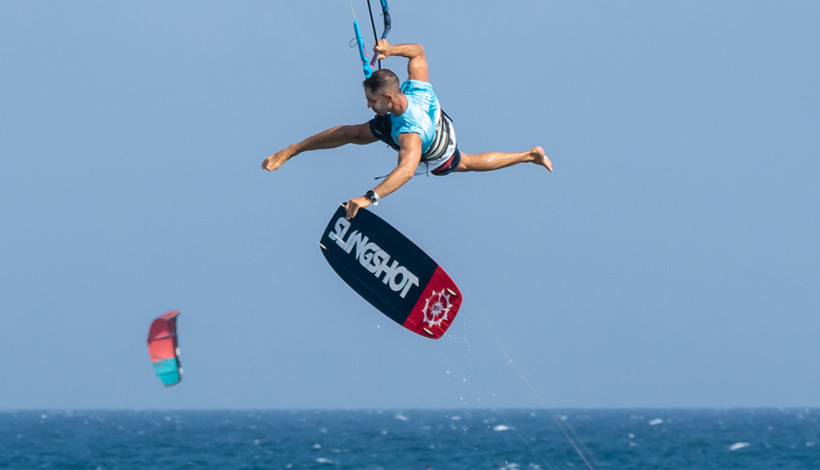 ONE ON ONE PRIVATE COACHING IS A GREAT WAY TO FOCUS ON IMPROVING YOUR TECHNIQUE OR LEARNING NEW TRICKS.
Private coaching is perfect for beginners, intermediate and advanced riders. With one on one coaching system you will get the opportunity to focus on specific skills you would like to learn or improve. For a beginner this is a great way to practise waterstart, improve upwind riding, transitions as well as building up your general confidence while kitesurfing. An intermediate rider could take advantage from private coaching on improving riding toe side, pop and eventually trying jumps with the correct technique. More advanced riders would benefit in areas like big air or unhooked tricks. The kitesurfing game is endless, you can learn something new on each session.
The Lesson
INFO
• AGE GROUP 12+
• 1-3 HOURS FOR €60 PER HOUR
• 4+ HOURS FOR €50 PER HOUR
• COMPLETED IKO OR SIMILAR COURSE REQUIRED
• SUITABLE FOR BEGINNERS, INTERMEDIATE AND ADVANCED RIDERS

Equipment
• USE OF YOUR OWN EQUIPMENT
• 20% DISCOUNT ON GEAR RENTAL (during private coaching)
The adrenaline pumping sport of kitesurfing can give you an endless amount of skills and tricks to learn and improve. The more you kitesurf the more confident you will feel on your riding and trick learning process. In every sport it is crucial to learn step by step and with the correct technique. The private coaching is for you if you want to improve your riding skills or if you want to learn how to backroll, handle pass or successfully land any other trick of your choice. There is no doubt that by choosing Kahuna Surfhouse coaching you will take your riding to the next level.

Book your spot today.
See you in the water!
Enquire and book