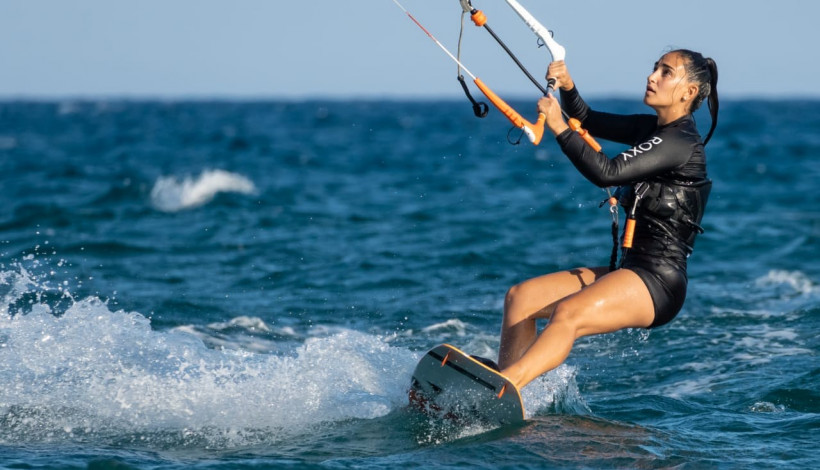 IF YOU LEARNT HOW TO KITESURF BUT YOU HAVEN'T PRACTISE MUCH OR FOR A WHILE THE REFRESHER COURSE IS FOR YOU.
The kitesurfing refresher course is for anyone who already completed an IKO or similar course but haven't really practised it for a while. Within 3 hours you and your IKO certified instructor will go through all the beginner's stages. As you already went through all the stages step by step before; muscle memory will come back in no time. Setting up the kite, flying the kite, body dragging and waterstart are included in this crash course. After this practice you will feel much more comfortable and you will be able to independently continue your kitesurfing journey.
The Lesson
INFO
• AGE GROUP 12+
• 1 DAY COURSE
• 3 HOURS
• COMPLETED IKO OR SIMILAR COURSE REQUIRED
• CRASH COURSE
• 1 HOUR FREE FULL KITE EQUIPMENT RENTAL INCLUDED (after the course completion)

THE COURSE
(the course will be tailored to your level)
• KITE SET UP
• RIGHT OF WAY RULES
• SAFETY SYSTEM USE
• KITE LAUNCH AND LAND
• FLYING THE KITE
• WALK WHILE FLYING THE KITE
• STEADY PULL
• WATER RELAUNCH
• WATERSTART
• CONTROLLED STOP
• CONTROL OF SPEED BY EDGING
• RIDE UPWIND
• SLIDING TRANSITION
• SELF RESCUE
• EQUIPMENT PACKING
Equipment
INCLUDED
• KITE
• BAR
• BOARD
• HARNESS
• FLOATING VEST
• HELMET
• WETSUIT (needed only from December - April)
Kitesurfing is our passion, therefore Kahuna Surfhouse's IKO certified instructors will get you through the kitesurfing refresher course in a fun and most importantly safe way. Having the opportunity to share the love for kitesurfing with more people is super satisfying. Our team's members are ready to share their knowledge in the best way possible. We value our students and we always make them feel comfortable and safe before, during and after the course. Prepare for an amazing kitesurfing experience in the island of Cyprus with the most amazing and friendly kitesurfing community of Kahuna Surfhouse.
Full payment of this course: https://buy.stripe.com/3cs3cUfyp4Jl6vm3cl

Book your lesson today.
See you in the water!
Enquire and book