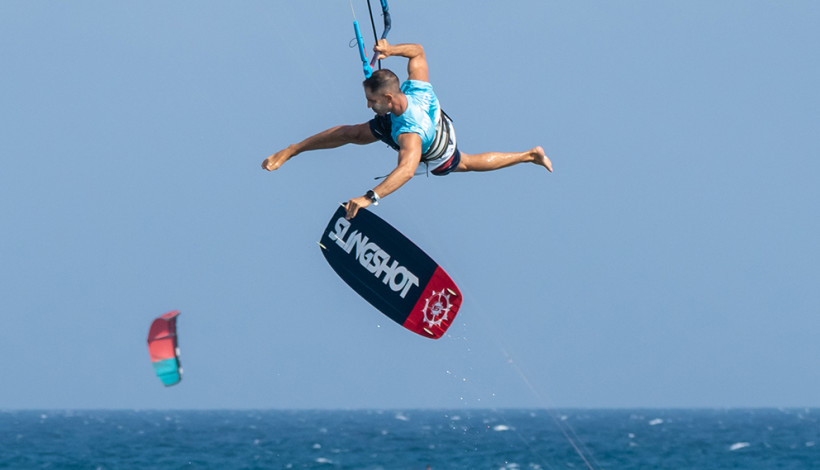 Jedes Level
Bevorzuge es wie ein Profi voranzukommen und lerne Eins zu Eins. Wir werden dir die entsprechenden Techniken vermitteln. Step by Step.
The Lesson
DIE LEKTION
Buchen Sie 1-2 Stunden für 60 € pro Stunde
Buchen Sie 3+ Stunden für 50 € pro Stunde
Mit dieser Option kannst du in jedem Bereich des Kitesurfens Einzelunterricht erhalten. Egal ob du Lernen oder Optimieren möchtest.
Du kannst jeden Kurs privat buchen oder wenn du eine zusätzliche Anleitung zum Wasserstart und zum Upwind wünschst, bringt dich diese Lektion dorthin.
Intensives Coaching von spezifischen Tricks - Unhooked, KGBs, Sbends etc.. Unsere fortgeschrittenen Kitesurfing-Lehrer werden dir helfen, dich zu verbessern und dein Kiten auf das nächste Level bringen.
Equipment
AUSRÜSTUNG
Unsere Schule wird jedes Jahr mit neuer Ausrüstung ausgestattet - Wir verwenden derzeit die Kites und Boards 2019/20 RRD, die mit ihrem innovativen Design und ihren Sicherheitsmerkmalen an der Spitze der Markenliga stehen.
Die gesamte Sicherheitsausrüstung - Helme, Neoprenanzüge, Schwimmhilfen - wird von der Schule zur Verfügung gestellt.
Um dir auch im Wasser ständig Orientierungzu geben, verwenden wir kabellose, wasserdichte undfunkgestützte Helme.
Wir sind gerne beim Kauf deines ersten günstigen Kitesurfing-Komplettpaketes behilflich.
Während des Unterrichts stellen wir dir die gesamte notwendige Ausrüstung zur Verfügung: Kite, Board, Trapez, Schwimmweste und einen Helm mit wasserdichtem Walkie-Talkie, damit dein Lehrer dich beim Lernen im Wasser anleiten kann.
The adrenaline pumping sport of kitesurfing can give you an endless amount of skills and tricks to learn and improve. The more you kitesurf the more confident you will feel on your riding and trick learning process. In every sport it is crucial to learn step by step and with the correct technique. The private coaching is for you if you want to improve your riding skills or if you want to learn how to backroll, handle pass or successfully land any other trick of your choice. There is no doubt that by choosing Kahuna Surfhouse coaching you will take your riding to the next level.

Book your spot today.
See you in the water!
Enquire and book