DISCOVERY & INTERMEDIATE COURSE
€420
back to all lessons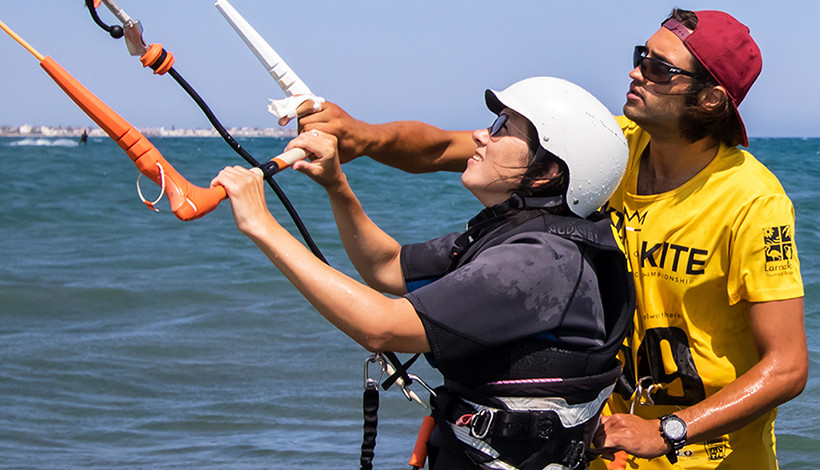 A UNIQUE, COMPLETE IKO KITESURFING COURSE IN CYPRUS. ARE YOU READY TO FALL IN LOVE WITH A NEW SPORT?
This is by far our most popular kitesurfing course. By choosing the IKO Discovery & Intermediate course, our certified instructors will take you, step by step, through all the stages needed to be able to practise kitesurfing on your own. The first part of this complete IKO kitesurfing course includes safety rules and skills practise on land before going into the water. Slowly but steady you will experience the full potential of the wind. Setting up the kitesurf equipment, control the kite, body drag and practising the water start are just a few of the stages you will follow with your instructor. This theoretical and practical experience will lead you to become proficient enough to begin practising and riding on your own.
The Lesson
INFO
• AGE GROUP 12+
• 3-4 DAY COURSE
• 8 HOURS (private) OR 10 HOURS (semi private)
• BASIC SWIMMING SKILLS NEEDED
• NO EXPERIENCE NEEDED
• FOR TOTAL BEGINNERS
• IKO LEVEL 1 & LEVEL 2
• 2 HOURS FREE FULL KITE EQUIPMENT RENTAL INCLUDED (after the course completion) - worth €40

THE COURSE
LEVEL 1
• SPOT, ENVIRONMENT AND ACTIVITY INTRODUCTION
• HOLD, CARRY AND SECURE A KITE ON LAND
• KITE SET UP
• SAFETY SYSTEM USE
• PRE-FLIGHT CHECK
• LAUNCH AND LAND AS AN ASSISTANT
• FLYING THE KITE AND EXPLORE THE WIND WINDOW
• LET GO OF THE BAR
• TWIST AND UNTWIST THE LINES
• FLY THE KITE WITH ONE HAND
• TRIM INTRODUCTION
• WALK WHILE FLYING THE KITE
• LAUNCH AND LAND AS A PILOT
• WIND WINDOW THEORY
• INFLIGHT QUICK RELEASE ACTIVATION
• SELF LAND
• EQUIPMENT PACKING

LEVEL 2
• ENTER AND EXIT THE WATER WHILE CONTROLLING THE KITE
• WATER RELAUNCH
• BODY DRAG WITH 2 HANDS
• BODY DRAG WITH POWER STROKE
• BODY DRAG UPWIND
• BODY DRAG WITH THE BOARD
• SELF RESCUE AND PACK DOWN INTRODUCTION
• RIGHT OF WAY RULES INTRODUCTION
• STEADY PULL
• WATERSTART
• CONTROLLED STOP

*€370 per person for group bookings (4 people minimum)

Equipment
INCLUDED
• KITE
• BAR
• BOARD
• HARNESS
• FLOATING VEST
• HELMET
• WETSUIT (needed only from December - April)

Kitesurfing is our passion, therefore Kahuna Surfhouse's IKO certified instructors will get you through the course in a fun and most importantly safe way. Having the opportunity to share the love for kitesurfing with more people is super satisfying. Our team's members are ready to share their knowledge in the best way possible. We value our students and we always make them feel comfortable and safe before, during and after the course. Prepare for an amazing kitesurfing experience in the island of Cyprus with the most amazing and friendly kitesurfing community of Kahuna Surfhouse.

Book your lesson today.
See you in the water!

Secure your booking here with 20% deposit: https://buy.stripe.com/28o28Qcmda3FdXO9AD
Full payment of this course: https://buy.stripe.com/9AQ5l2eula3F6vm8wA
Enquire and book