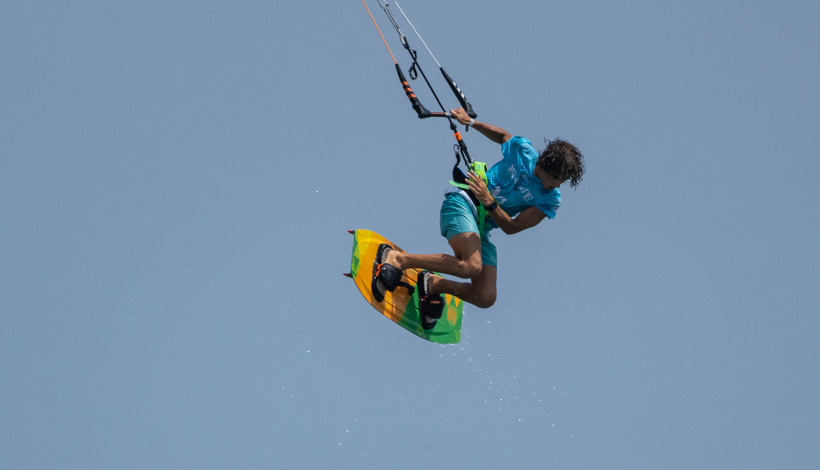 THIS IS AN ENTERTAINING INTRODUCTORY TO KITESURFING. GREAT FUN FOR INDIVIDUALS OR A FAMILY AND FRIENDS DAY OUT.
The warm water of the Mediterranean sea in Cyprus together with the combination of the endless sunny days and thermal winds is what you only need to experience an exciting introduction to kitesurfing. Great fun while trying something different as an individual or together with family and friends. We start the lesson with the background theory of kitesurfing, fly the trainer kite on land and then we go into the water for a session on a big kite. You will practice body dragging and experience the kite's power and momentum. What a better way to get a taste for this adrenaline pumping sport.
The Lesson
INFO
• AGE GROUP 12+
• 2 HOURS
• BASIC SWIMMING SKILLS NEEDED
• NO EXPERIENCE NEEDED
• FOR TOTAL BEGINNERS
• FUN ACTIVITY

INCLUDED
• KITESURFING THEORY
• LAUNCH AND LAND AS AN ASSISTANT
• FLY THE KITE ON LAND
• FLY THE KITE IN THE WATER
• BODY DRAGGING
• TANDEM RIDE (optional)

Equipment
INCLUDED
• KITE
• BAR
• BOARD
• HARNESS
• FLOATING VEST
• HELMET
• WETSUIT (needed only from December - April)
Kitesurfing is our passion, therefore Kahuna Surfhouse's IKO certified instructors will get you through the lesson in a fun and most importantly safe way. Having the opportunity to share the love for kitesurfing with more people is super satisfying. Our team's members are ready to share their knowledge in the best way possible. We value our students and we always make them feel comfortable and safe before, during and after the lesson. Prepare for an amazing kitesurfing experience in the island of Cyprus with the most amazing and friendly kitesurfing community of Kahuna Surfhouse.

Book your lesson today.
See you in the water!
Secure your booking here: https://buy.stripe.com/5kA3cU9a12Bd5ri3cj
Enquire and book