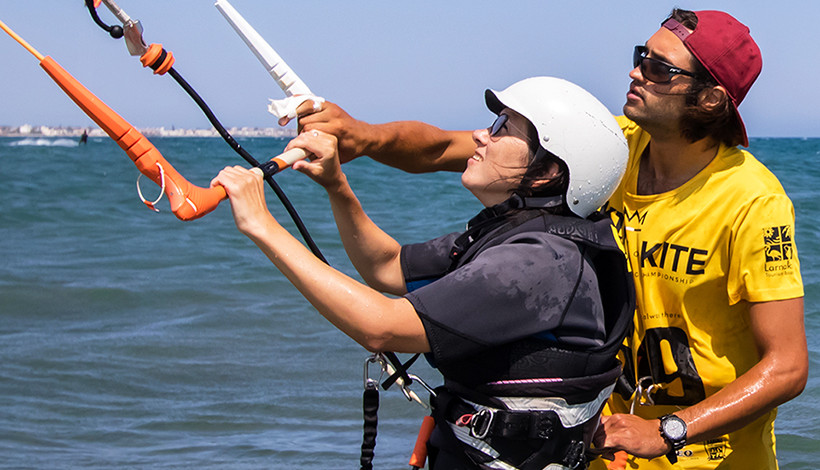 Уникальное суперпредложение, программа разработанная командой Kahuna, чтобы обучиться кайтсерфингу в экспресс режиме!
Групповые / Частные заказы. Курс для начинающих включающий аренду оборудования по окончанию курса!
The Lesson
около 9 часов. - Группа 2 - 330€.
около 7 часов. - Частный - 330€
Опыт не нужен! Только основные навыки плавания.
• Изучение IKO уровней 1 и 2, от ученика к независимому кайтсерферу, готовому к серьезному экстремальному спорту
. • В течение 9 часов вы выучите основы ветрового окна, сбор и настройка оборудования, основы безопасности, научитесь управлять тягой кайта, выучите безопасный запуск и парковку кайта на суше, буксировку тела на воде (основы безопасности, управления и осознание тяги кайта), самоспасение и перезапуск кайта с поверхности воды. И у вас будет время попрактиковаться! Это реалистичный и безопасный способ стать независимым кайтсерфингом за достаточно короткие сроки.
• Этот курс преподается индивидуально или в группах до 2 человек на кайт
• Включает в себя 2 часа БЕСПЛАТНОГО проката снаряжения стоимостью 40 евро по окончанию курса.
Equipment
ОБОРУДОВАНИЕ
Школа ежегодно обновляет оборудование - в настоящее время мы используем кайты и доски RRD 2019/20 года, мы выбираем линии бренда превосходящие по своему инновационному дизайну и безопасности.
Всё защитное снаряжение - шлемы, гидрокостюмы, спасательные жилеты предоставляются школой.
Мы используем водонепроницаемые шлемы, оснащенные беспроводными рациями, чтобы вы могли постоянно находиться в контакте с инструктором в воде.
Мы можем помочь вам в первой покупке полного пакета снаряжения и оборудования по отличным ценам.
Во время уроков мы предоставляем вам все необходимое оборудование: кайт, доску, трапецию, лиш, спасательный жилет и шлем в комплекте с водонепроницаемой рацией, для поддержания инструктажа при занятиях на воде.
This is the most popular and valuable course. Within the located hours, the International Kiteboarding Organisation can expect you to reach the Waterstart level and be confident & independent to practise.
We include a free 4 hour complete kite set rental to keep you going!
From there, you can continue renting or we can help you buy your first Kitesurfing equipment package withing your budget!
Enquire and book