DISCOVERY & INTERMEDIATE COURSE
€420
back to all lessons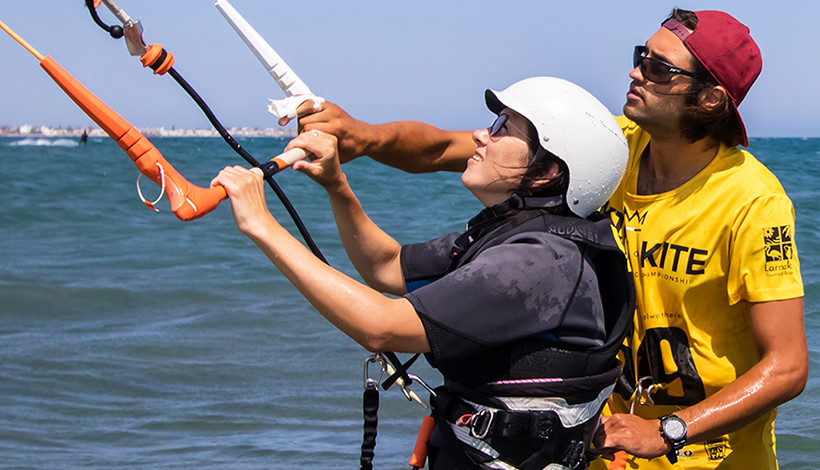 Das einzigartige Komplettpaket, entwickelt vom Kahuna Team, um dir das Kitesurfen beizubringen!
3-Tages-Kurs inklusive Materialverleih nach dem Kurs, um dein Erlerntes zu festigen und zu optimieren!
The Lesson
DIE LEKTION
Approx 9 hours - Group of 2 - 330€.
Approx 7 hours - Private - 330€
Dauer: Ca 9 Stunden. Keine Erfahrung erforderlich! Grundkenntnisse im Schwimmen.
Bringt dich durch das IKO Level 1-2 und wird dich zu einem sicheren und eigenständigen Kitesurfer machen, der für den Extremsport mit Adrenalinschub bereit ist.
In diesen 9 Stunden lernst du den Kite zu kontrollieren, Body-Drag, Selbstrettung und den Wasserstart. Du wirst ausreichendZeit zum üben haben! Dieser Kurs ist der einfachste und sicherste Weg um selbstständig zu kiten.
Dieser Kurs wird in kleinen Gruppen von bis zu 2 Personen pro Kite unterrichtet.
Equipment
AUSRÜSTUNG
Unsere Schule wird jedes Jahr mit neuer Ausrüstung ausgestattet - Wir verwenden derzeit die Kites und Boards 2019/20 RRD, die mit ihrem innovativen Design und ihren Sicherheitsmerkmalen an der Spitze der Markenliga stehen.
Die gesamte Sicherheitsausrüstung - Helme, Neoprenanzüge, Schwimmhilfen - wird von der Schule zur Verfügung gestellt.
Um dir auch im Wasser ständig Orientierungzu geben, verwenden wir kabellose, wasserdichte undfunkgestützte Helme.
Wir sind gerne beim Kauf deines ersten günstigen Kitesurfing-Komplettpaketes behilflich.
Während des Unterrichts stellen wir dir die gesamte notwendige Ausrüstung zur Verfügung: Kite, Board, Trapez, Schwimmweste und einen Helm mit wasserdichtem Walkie-Talkie, damit dein Lehrer dich beim Lernen im Wasser anleiten kann.
This is the most popular and valuable course. The International Kiteboarding Organisation can expect you to reach the Waterstart level and be confident & independant to practise.
We include a free 4 hour complete kite set rental to keep you going!
From there, you can continue renting or we can help you buy your first Kitesurfing equipment package within your budget!
Enquire and book