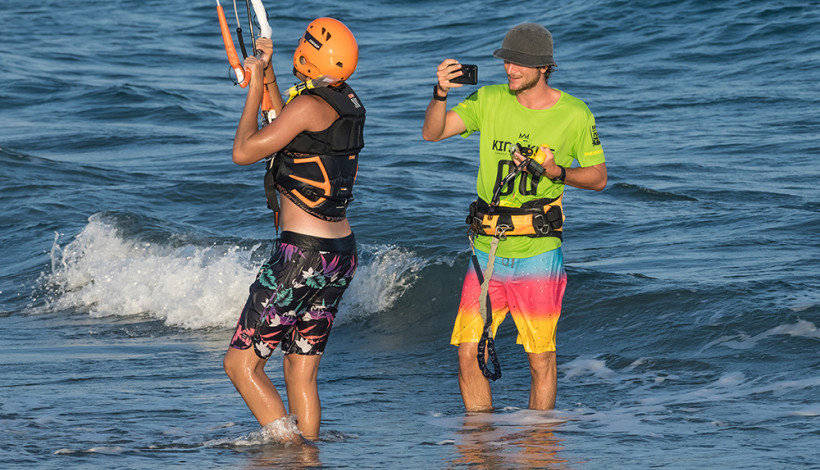 BE PREPARED TO GET ADDICTED WITH KITESURFING, THE INDEPENTENT RIDER COURSE WILL GET YOU UP AND RIDING.
Групповые / Частные заказы.
The Lesson
около 15 часов - Группа 2 - 540€.
около 12 часов - Частный - 540€
Опыт не нужен! Только основные навыки плавания.
Takes you through IKO Level 1-3 to make you a confident kitesurfer, riding independently and attempting first tricks.
You will learn everything from kite set up, kite control, self rescue, waterstart and riding on the sea. The hours dedicated to this course is the realistic amount to ensure enough time to practise skills with the instructor and perfect the riding with constant evaluation and coaching.
This course is taught either private or in groups of up to 2 people per kite
All equipment is included in this price.
Equipment
ОБОРУДОВАНИЕ
Школа ежегодно обновляет оборудование - в настоящее время мы используем кайты и доски RRD 2019/20 года, мы выбираем линии бренда превосходящие по своему инновационному дизайну и безопасности.
Всё защитное снаряжение - шлемы, гидрокостюмы, спасательные жилеты предоставляются школой.
Мы используем водонепроницаемые шлемы, оснащенные беспроводными рациями, чтобы вы могли постоянно находиться в контакте с инструктором в воде.
Мы можем помочь вам в первой покупке полного пакета снаряжения и оборудования по отличным ценам.
Во время уроков мы предоставляем вам все необходимое оборудование: кайт, доску, трапецию, лиш, спасательный жилет и шлем в комплекте с водонепроницаемой рацией, для поддержания инструктажа при занятиях на воде.
Kitesurfing is our passion, therefore Kahuna Surfhouse's IKO certified instructors will get you through the course in a fun and most importantly safe way. Having the opportunity to share the love for kitesurfing with more people is super satisfying. Our team's members are ready to share their knowledge in the best way possible. We value our students and we always make them feel comfortable and safe before, during and after the course. Prepare for an amazing kitesurfing experience in the island of Cyprus with the most amazing and friendly kitesurfing community of Kahuna Surfhouse.

Book your lesson today.
See you in the water!

Enquire and book