STAND UP PADDLE IN CYPRUS
A GREAT WAY TO EXPLORE THE MEDITERRANEAN SEA.
SUITABLE FOR ALL AGES, NO PREVIEWS EXPERIENCE NEEDED.
SUP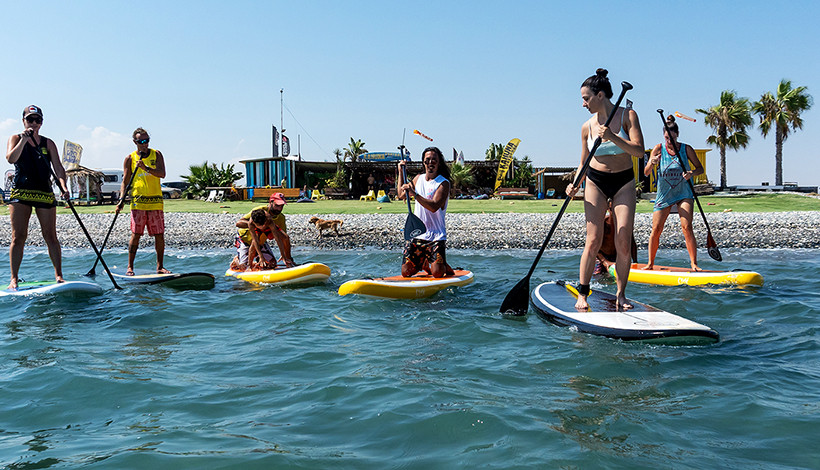 Stand up paddle boarding will give you the opportunity to explore the coastline of Cyprus and discover the beauty of the Mediterranean sea in a fun and active way. This sport builds up your strength, general fitness and balance. It is suitable for literally anyone with or without any sports experience. SUP is one of the easiest water sports to learn in a very short time.
Lessons
INFO
• 30 MINUTES
• INTRO LESSON
• HOW TO KNEEL AND STAND UP ON THE BOARD
• HOW TO PADDLE AND TURN
• HOW TO CONTROL YOUR BOARD COMPLETELY
• BASIC SWIMMING SKILLS NEEDED
• NO PREVIEWS EXPERIENCE NEEDED

*Total beginners should stay close to the shore at all times.

Get up and paddle within half an hour. This is what it takes for you to get your first ever SUP experience. After the completion of the intro lesson you will be able to take a ride on your own. Our school offers SUP board rental sizes suitable for kids and adults. Stand up paddle boarding provides several health benefits. You will not only improve your physical health but also your psychology. The balance and paddle stroke will give you a whole body workout; strengthening and toning the arms, torso and legs. This sport refreshes the mind and keeps you energised and motivated while you are surrounded by the beautiful calming effect that Mediterranean sea offers here in Cyprus.


RENTALS
• CLIENT HAVE RESPONSIBILITY FOR THE EQUIPMENT
(unless the optional equipment insurance fee is paid)
• PRE BOOK YOUR SUP RENTAL
• EQUIPMENT SUBJECT TO AVAILABILITY
• CHECK PRICE LIST FOR RENTAL COST

Enquire and book
| Time | Price |
| --- | --- |
| 1-2 Hrs (hourly rate) | €15.00 |
| 3-4 Hrs (hourly rate) | €13.00 |
| 5+ Hrs (hourly rate) | €10.00 |
| 1 Day (daily rate) | € 40.00 |
| 30' lesson + 30' rental | € 30.00 |
| Wetsuit Rental (for board rentals only) up to 2 hours | € 10 |
| Wetsuit Rental (for board rentals only) up to 4 hours | € 20 |