SURF IN CYPRUS
IT'S YOUR TIME TO EXPERIENCE SURFING IN CYPRUS.
BOOK A LESSON WITH US AND DISCOVER A WHOLE NEW CULTURE.
SURF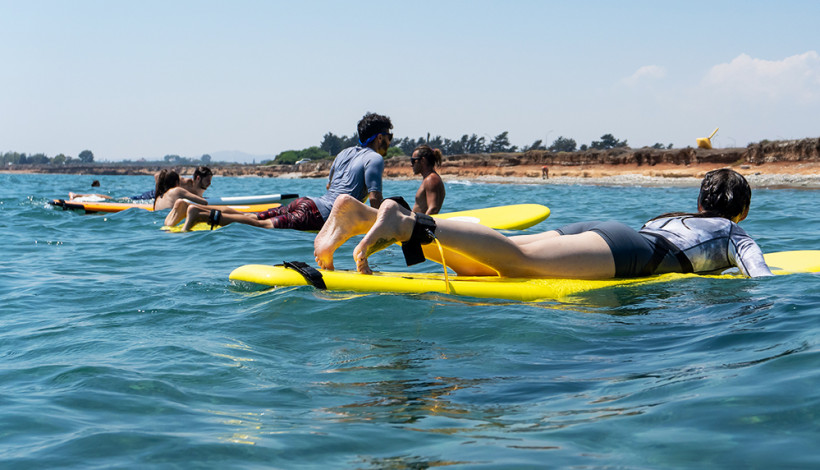 With 648km of coastline and endless sunny days, Cyprus is the place to be as it has the proper conditions for every water sport. Through years of searching every inch of this coastline we have found the best surf spots that Cyprus has to offer. The island has a variety of spots, some are better for beginners while others are perfect for advanced, experienced riders. Our team will introduce you or help you improve your skills through surfing lessons. Our surf lessons include theory and safety tips followed by practice.
Lessons
INFO
• 2 HOURS
• INTRO LESSON
• CURRENT & SWELL THEORY
• HOW TO PADDLE
• 'THE POP' PRACTICE
• HOW TO STAND ON THE BOARD
• HOW TO RIDE A WAVE
• BASIC SWIMMING SKILLS NEEDED
• NO PREVIEWS EXPERIENCE NEEDED

The total beginner lessons always take place in a calmer sea spots with baby waves. Your first surf experience will be fun, you will get a lot of fundamental and interesting information about the waves and the sport before your practise. Surf is an amazing sport that brings you closer to nature, the water element and your surroundings. It will improve your physical as well as your psychological health. Surf offers unlimited adrenaline and satisfaction in every single session. It is a fantastic skill to take on your travels around the world.


RENTALS
• CLIENT HAVE RESPONSIBILITY FOR THE EQUIPMENT
(unless the optional equipment insurance fee is paid)
• PRE BOOK YOUR SURFBOARD RENTAL
• EQUIPMENT SUBJECT TO AVAILABILITY
• CHECK PRICE LIST FOR RENTAL COST
Enquire and book
| Time | Price |
| --- | --- |
| 1-2 Hrs (hourly rate) | €15.00 |
| 3-4 Hrs (hourly rate) | €13.00 |
| 5+ Hrs (hourly rate) | €10.00 |
| 1 Day (daily rate) | €40.00 |
| 2 hour lesson | €80.00 |