STAND UP PADDLE IN CYPRUS
A GREAT WAY TO EXPLORE THE MEDITERRANEAN SEA.
SUITABLE FOR ALL AGES, NO PREVIEWS EXPERIENCE NEEDED.
Stand Up Paddeln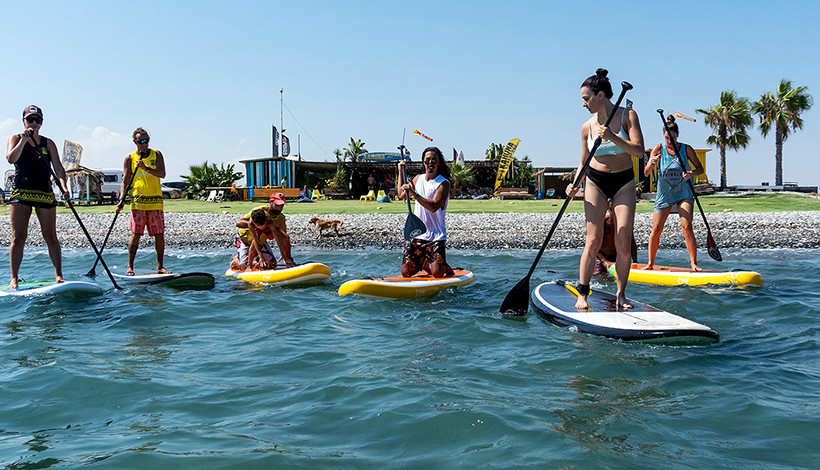 Erkunde die Küstenlinie, entdecke die Schönheit des Mittelmeeres, paddel entlang vor dem Wind. Die Entdeckung des zypriotischen Mittelmeers aus einer neuen Perspektive ist eine unvergessliche Erfahrung!
Lessons
Lektionen
Sieh dir unsere SUP-Tour-Erfahrungen hier an: https://kahunasurfhouse.eu/kitesurf/epic-extras/stand-up...
Zu unseren Leihboards gehören 10,6 bis 11,6 Stand Up Boards von Naish und RRD.
In der Einführungsstunde lernst du, auf dem Brett zu knien und aufzustehen, wie man Paddelschläge und Drehungen ausführt und wie man sein Brett vollständig kontrolliert.
Die Vermietung erfolgt in deiner Verantwortung; es sei denn, die Versicherungsgebühr für die optionale Ausrüstung wird beglichen. Buche deinen SUP & Surf-Verleih im voraus, indem du eine E-Mail an [email protected] schickst. Tagessatz: Eine Pauschale die von 11.00 - 21.00 Uhr berechnet wird. Unabhängig davon, wie viele Stunden die Ausrüstung benutzt wird. Ausrüstung vorbehaltlich der Verfügbarkeit.
Stand Up Paddeln ist der heiße neue Tend, der den Wassersport beherrscht. Ursprünglich eine traditionelle hawaiianische Form des Surfens. Kraft, allgemeine Fitness, Gleichgewicht und Koordination werden gefördert.
Wir bieten dir unser Intro zum Stand Up Paddeln auf Zypern an. Eine hervorragende Grundlage für den Einstieg in den Sport. Dir werden die notwendigen Fähigkeiten vermittelt. Du lernt die Grundlagen in einer ruhigen Gegend am Strand von Kiti und setzt dieses Wissen dann in die Praxis um, indem du die wunderschöne natürliche Umgebung des Strandes von Softades erkundest. Wenn die Bedingungen stimmen, hast du vielleicht die Möglichkeit, einige Wellen zu reiten!
Stand Up Paddeln in Zypern bietet mehrere gesundheitliche Vorteile. Es gibt die offensichtlichen physischen Vorteile, aber es gibt auch die weniger offensichtlichen psychologischen Vorteile. Das Gleichgewicht und der Paddelschlag ergeben ein Ganzkörpertraining - die Arme, der Rumpf und die Beine werden gestärkt und gestrafft. Außerdem erfrischt es den Geist und hält dich inmitten der schönen beruhigenden Wirkung des Mittelmeers energisch und motiviert.
Enquire and book
| Time | Price |
| --- | --- |
| 1-2 Hrs (Stundensatz) | €15.00 |
| 3-4 Hrs (Stundensatz) | €13.00 |
| 5+ Hrs (Stundensatz) | €10.00 |
| 1 Day (Tagesrate) | € 40.00 |
| 30 Minuten Unterricht | € 30.00 |