EFOIL IN CYPRUS
EFOIL IS THE EASIEST WAY TO ENJOY THE MAGICAL SENSATION OF FLYING SILENLTY ABOVE THE WATER.
EFOIL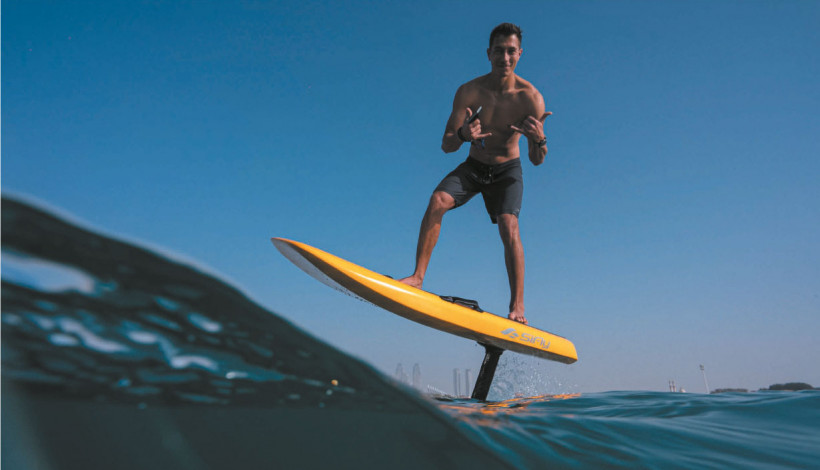 eFoiling is one of the newest and most promising boardsports at the moment. Unlike other sports and activities that we offer, to be able to eFoil you do not rely on wind or waves. Therefore you have the opportunity to enjoy a ride more often, move at faster speeds and enjoy the magical sensation of flying silently above the water! Experience levitation with this eco-friendly and emission-free sport, protective of the local environment! Don't wait for wind or waves, just plug in the battery and start foiling!
Lessons
INFO
• AGE GROUP 12+
• 1 HOURS (per lesson)
• BASIC SWIMMING SKILLS NEEDED
• NO EXPERIENCE NEEDED
• FOR TOTAL BEGINNERS TO ADVANCED RIDERS

THE COURSE
• SPOT, ENVIRONMENT AND ACTIVITY INTRODUCTION
• HOW THE eFOIL BOARD WORKS
• SAFETY TALK
• 'THE POP' PRACTICE (out of the water)
• HOW TO RIDE, CONTROL AND BALANCE ON YOUR KNEES
• HOW TO RIDE ON YOUR FEET (not foiling)
• 'THE POP' PRACTICE (in the water)
• HOW TO RIDE ON YOUR FEET (foiling)
• HOW TO FOIL AT SPEED
• HOW TO TURN AND STAY CONTROL ON THE EFOIL
*You will learn and practice part or the full course depending on how many hours of lessons you will book.
If we were to simply describe what an eFoil is we would say it is a surfboard with an electric propeller just above the wing of the hydrofoil which powers the board to move through water. The board is powered by a rechargeable battery and it is controlled by a handheld remote that syncs the eFoil via Bluetooth. There no need to paddle waves or pump with your legs to keep moving! You can enjoy a unique feeling of floating and flying without the hustle.

RENTALS
• CLIENT HAVE RESPONSIBILITY FOR THE EQUIPMENT
(unless the optional equipment insurance fee is paid)
• PRE BOOK YOUR eFOIL RENTAL
• EQUIPMENT SUBJECT TO AVAILABILITY
• CHECK PRICE LIST FOR RENTAL COST

Enquire and book
| Time | Price |
| --- | --- |
| 1 Hour rental (private) | €95.00 |
| 1 Hour rental (semi private) | €65.00 p.p. |
| 0.5 Hour rental (private) | €45.00 |
| 1.5 Hour lesson (private) | €150.00 |
| 1 Hour lesson (semi private) | €200.00 |
| Wetsuit Rental (for board rentals only) up to 2 hours | € 10 |
| Wetsuit Rental (for board rentals only) up to 4 hours | € 20 |