KITE FOIL IS CYPRUS
KITE FOILING IS SUITABLE FOR ANY KITEBOARDER WHO WANTS TO EXPERIENCE KITING ABOVE THE SURFACE OF THE WATER.
KITE FOIL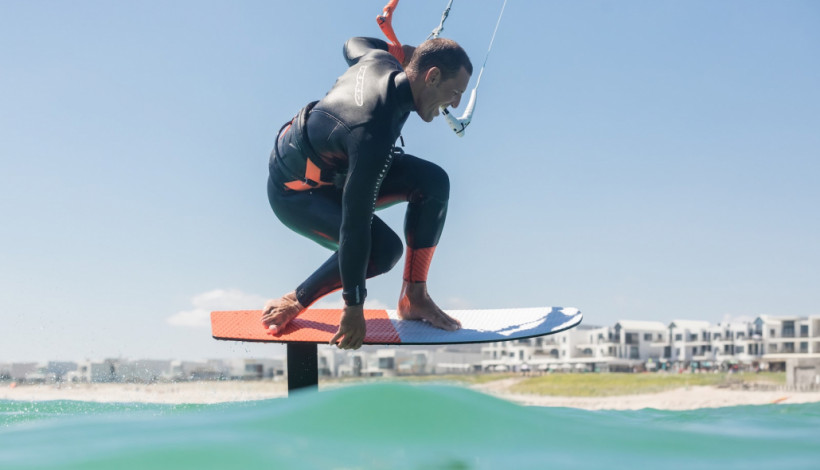 Hydrofoil kiteboarding is here to stay. If you are ready to explore a whole new way of kiteboarding then kite foiling is the answer. Learn this newest discipline and you won't miss a day out of the water. When the wind is just not enough to kitesurf; is more than enough to kitefoil. Super light wind days will be your ultimate conditions to practice and enjoy an above the water session. Are you ready to get hooked?
Lessons
INFO
• AGE GROUP 12+
• 2 HOURS (per lesson)
• BASIC SWIMMING SKILLS NEEDED
• INTERMEDIATE TO ADVANCE KITEBOARDING RIDING SKILLS NEEDED

THE COURSE
• HYDROFOIL BOARD MANAGEMENT
• HYDROFOIL BOARD STARTS
• HOW TO CONTROL YOUR RIDING
• HOW TO ADJUST YOUR STANCE
Through this kiteboarding discipline you will experience riding above the water thanks to the foil, you will be able to kite from 8knots, gain great speed and upwind abilities. By using a hydrofoil board you will have the opportunity to easily cover long distances in a quiet, light wind environment and calm sea.
RENTALS
• CLIENT HAVE RESPONSIBILITY FOR THE EQUIPMENT
(unless the optional equipment insurance fee is paid)
• PRE BOOK YOUR HYDROFOIL BOARD RENTAL
• EQUIPMENT SUBJECT TO AVAILABILITY
• CHECK PRICE LIST FOR RENTAL COST

Enquire and book
| Time | Price |
| --- | --- |
| 2 Hours rental | €40.00 |
| 4 Hours rental | €70.00 |
| 6 Hours rental | €90.00 |
| 1-2 Days rental (daily rate) | €55.00 |
| 3-6 Days rental (daily rate) | €45.00 |
| 7-9 Days rental (daily rate) | €35.00 |
| 10+ Days rental (daily rate) | €30.00 |
| 2 Hours private lesson | €120.00 |
| Wetsuit Rental (for board rentals only) up to 2 hours | €10.00 |
| Wetsuit Rental (for board rentals only) up to 4 hours | €20.00 |