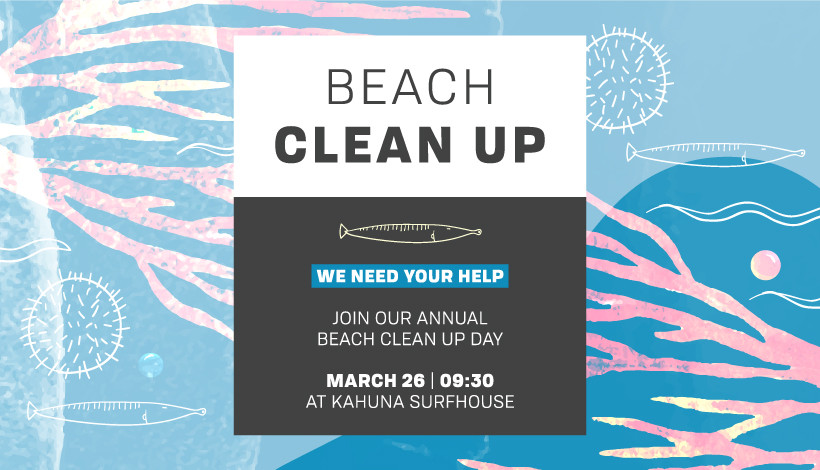 IT'S OUR TIME AND OPPORTUNITY TO GIVE BACK TO MOTHER NATURE & WE NEED YOUR HELP.
Our annual beach clean up is coming up on Sunday the 26th of March. It is our time and opportunity to give back to mother nature. With your help, we will be able to clean a big area of Softades beach in Kiti. Join us on your own or with friends and family. We got all volunteers covered with gloves, trash bags, refreshments, food and crew t-shirt. Starting the day with the coastal clean up followed by the music selection of George Key, pop up shop by The Salty Souls, food by The Mighty Kitchen, an intro of our new weekly activity 'Movement Class' and of course good vibes and boardsports. Let's do this!
Details
DATE
2023 MAR 26
LOCATION
KAHUNA SURFHOUSE - SOFTADES BEACH, KITI, LARNACA

TIMETABLE
09:30-11:30
BEACH CLEAN UP
12:00-13:30
LUNCH BY THE MIGHTY KITCHEN (free for all the volunteers)
17:30-18:30
SUNSET MOVEMENT CLASS BY OLYMPIA MOVEMENT (free for everyone)
ALL DAY
BOARDSPORTS, FOOD, DRINKS, POP UP SHOP BY THE SALTY SOULS
MUSIC
DJ GEORGE KEY

SPONSORS & SUPPORTERS
KAHUNA SURFHOUSE
THE SALTY SOULS
THE MIGHTY KITCHEN
DJ GEORGE KEY
ENALIA PHYSIS
See you all at the beach!
Enquire and book