KAHUNA SNOWBOARD TRIP
€1100
back to all camps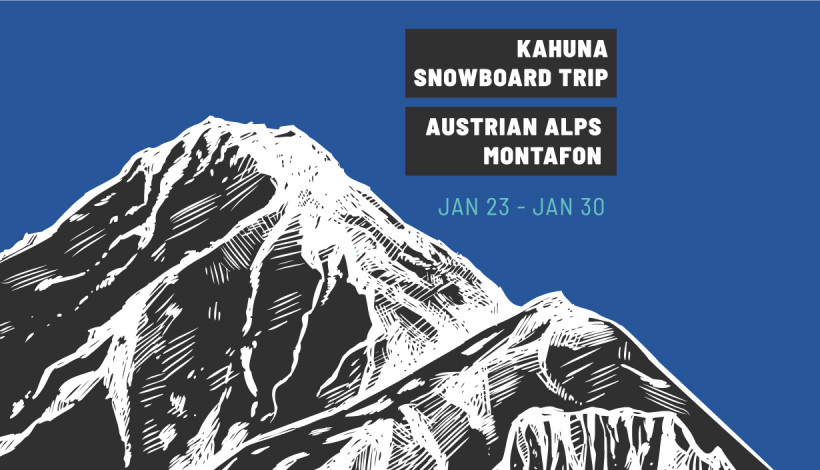 KAHUNA SURFHOUSE GOES TO AUSTRIA. JOIN THE TRIP AND LEARN A NEW SPORT OR TAKE YOUR RIDING TO THE NEXT LEVEL.
This is the very first Kahuna winter trip abroad. After many requests we couldn't resist to organize a snow dream trip to the mecca of ski and snowboard, Montafon, Austrian Alps. A fully active holiday week, a great opportunity to not only explore a new snow spot but to also meet like minded people. We can ensure you that it will be a holiday to remember.
Details
DATES
2022 JAN 23-30 ✔

INFO
• 8 DAYS / 7 NIGHTS
• AGE GROUP 18+
• MAXIMUM 12 PEOPLE
• NO EXPERIENCE NEEDED

INCLUDED
• FLIGHTS WITH X1 23KG BAGGAGE
• TRAIN TICKETS
• ACCOMMODATION
• 6 DAY SKI PASS

EXCLUDED
• SPORT LUGGAGE
• FOOD & DRINKS
• SNOWBOARD / SKI LESSONS
• EQUIPMENT RENTAL

Equipment
AVAILABLE TO RENT ON SPOT
Once in a lifetime experience, Montafon is one of Austria's largest ski areas. It offers slopes with gradients that will impress even the most experienced skiers and snowboarders, as well as an extensive backcountry that will give you a feeling of freedom. Except of the exceptional advanced slopes, Montafon offers a variety of beginner friendly slopes. Let's fly from Cyprus to Austria for a unique mountain experience that will stay in your memories forever.
Book your spot today.
See you on the slopes!
Enquire and book