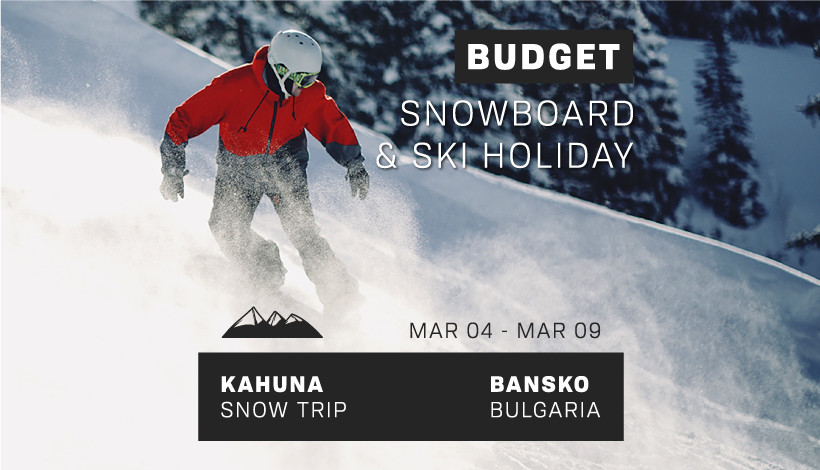 KAHUNA SURFHOUSE GOES TO BULGARIA. JOIN THE TRIP AND LEARN A NEW SPORT OR TAKE YOUR RIDING TO THE NEXT LEVEL.
After last year's amazing snow trip to Austrian Alps, Kahuna Surfhouse team couldn't resist to organise a 2023 snowboard and ski holiday trip. After many requests we are here with a budget trip to Bansko, Bulgaria. A fully active holiday week, a great opportunity to not only explore a new snow spot but to also meet like minded people. We can ensure you that it will be a holiday to remember.
Details
DATES
2023 JAN 19-26 ✔
2023 MAR 04-09

INFO
• 6 DAYS / 5 NIGHTS
• AGE GROUP 18+
• SMALL GROUP
• NO EXPERIENCE NEEDED

INCLUDED
• KAHUNA SURFHOUSE HOST - ELIAS MANTOVANIS
(Providing basic daily program for the group, optional if you would like to follow)
• AIRPORT TRANSFER
(From and to Sofia airport)
• ACCOMMODATION IN HOTEL APARTMENT WITH EASY ACCESS TO GONDOLA
(Mix of twin, double and sofa beds)
• SKI PASS

EXCLUDED
• FLIGHTS & LUGGAGE
(Book your own Ryanair flight from Paphos to Sofia with return, Mar 04 - Mar 09)
• FOOD & DRINK
• SNOWBOARD / SKI LESSONS
(We will be able to assist you with beginner to intermediate lessons)
• EQUIPMENT RENTAL
(We will be able to assist you with rentals)
TERMS & CONDITIONS
• FULL PAYMENT TO BANK DETAILS PROVIDED BY 15.02.23
• IF FOR ANY REASON KAHUNA SURFHOUSE CANCELS THE TRIP, A FULL REFUND WILL BE GIVEN
• IF YOU CANCEL AT ANY PERIOD OF TIME UP TO AND INCLUDING THE 19th OF FEBRUARY 2023, A €350 REFUND WILL BE MADE
• IF YOU CANCEL AT ANY PERIOD OF TIME FROM 20th OF FEBRUARY 2023, A €250 REFUND WILL BE MADE
• FLIGHT TICKETS ARE THE RESPONSIBILITY OF THE PASSENGER
• KAHUNA SURFHOUSE TAKES NO RESPONSIBILITY FOR THE FLIGHT IN THE CASE OF CANCELLATION FROM ANY PARTY
• MEDICAL AND TRAVEL INSURANCE ARE THE RESPONSIBILITY OF THE PERSON ATTENDING THIS GROUP. KAHUNA SURFHOUSE DOES NOT PROVIDE OR OFFER THIS INSURANCE FOR THE PEOPLE ATTENDING THE HOLIDAY

Equipment
AVAILABLE TO RENT ON SPOT
Once in a lifetime experience, Bansko is one of Bulgaria's largest ski areas. It offers slopes with gradients that will impress even the most experienced skiers and snowboarders, as well as an extensive backcountry that will give you a feeling of freedom. Except of the exceptional advanced slopes, Bansko offers a variety of beginner friendly slopes. Let's fly from Cyprus to Bulgaria for a unique mountain experience that will stay in your memories forever.

Book your spot today.
See you on the slopes!
Enquire and book