SUP/Surf
A great way to explore the Mediterranean! Suitable for all ages and no previous experience needed!
SUP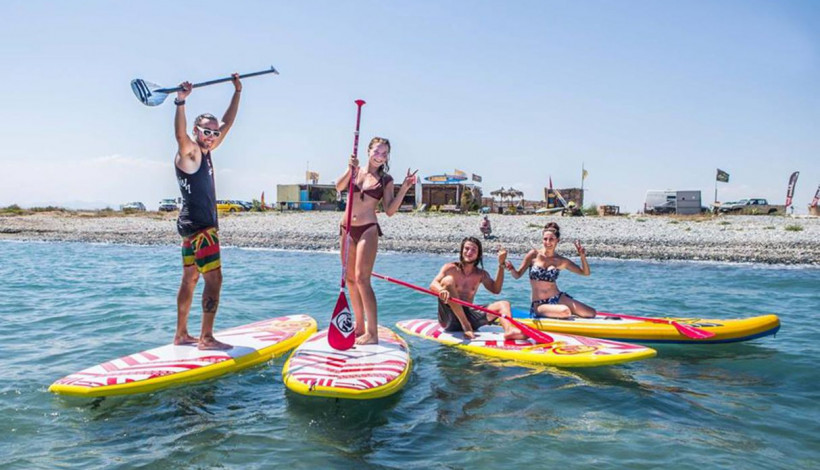 Explore the coastline, discover the beauty of the Mediterranean Sea, paddle downwind long distance. Discovering the Cyprus Mediterranean from a new perspective is an unforgettable experience!
Lessons
Check out or SUP Tour Experience here:
https://kahunasurfhouse.eu/kitesurf/deals/stand-up...
Our rental boards include 10.6 to 11.6 Stand Up Boards by Naish and RRD.
The Intro lesson teaches you to kneel and stand up on the board, how to paddle stroke and turn and how to control your board completely.
Rentals are at the responsibility of the client, unless the optional equipment insurance fee is paid.Pre book your SUP & Surf rental by sending an email to [email protected] Daily/ rate: is a fixed amount charged from 11am - 9pm regardless of how many hours the equipment is used. Equipment subject to availability
Stand up Paddle Surfing is the hottest new craze taking over water sports. Originally a traditional Hawaiian form of surfing, promoting strength, general fitness, balance and co-ordination.
We offer our Intro to stand up paddle surfing in Cyprus which will give you an excellent foundation into the sport and teach you the skills needed to get started. You will learn the basics in a calm area of Kiti beach,then put that knowledge into practice by exploring the beautiful natural surroundings of the Softades beach system. If the conditions are right you may have the opportunity to tackle some waves!
Stand Up Paddle Boarding in Cyprus provides several health benefits. There are the obvious physical benefits, but there are also the less obvious psychological benefits. The balance and paddle stroke give a whole body workout – strengthening and toning the arms, torso and legs. It also refreshes the mind and keeps you energised and motivated surrounded by the beautiful calming effect of the Mediterranean sea.
Enquire and book
| Time | Price |
| --- | --- |
| 1-2 Hrs (hourly rate) | €15.00 |
| 3-4 Hrs (hourly rate) | €13.00 |
| 5+ Hrs (hourly rate) | €10.00 |
| 1 Day (daily rate) | € 40.00 |
| 30 minute instruction | € 30.00 |