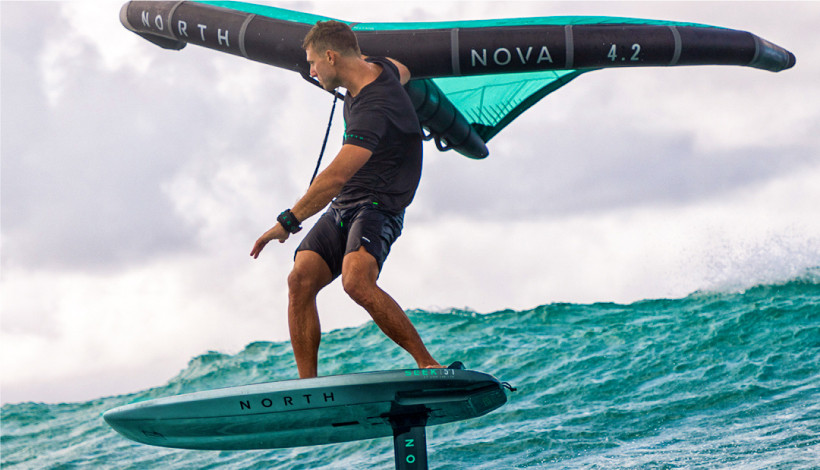 WING FOILING LESSONS AND COACHING ARE SUITABLE FOR TOTAL BEGINNERS TO ADVANCED RIDERS.
If the idea of combining kitesurfing, windsurfing and surfing excites you, wait no more! Wing foiling it is and Kahuna Surfhouse got you covered on learning the sport or improving your skills. Our team of experts will make your learning journey enjoyable, safe and fun. In Cyprus we have the perfect wind and water conditions that will make your experience easier and less challenging. Wing foiling is for anyone and everyone, no previous experience is needed. Wing up and ride!
The Lesson
INFO
• AGE GROUP 12+
• 2 HOURS (per lesson)
• BASIC SWIMMING SKILLS NEEDED
• NO EXPERIENCE NEEDED
• FOR TOTAL BEGINNERS TO ADVANCED RIDERS
THE COURSE
• SPOT, ENVIRONMENT AND ACTIVITY INTRODUCTION
• SETUP, SECURE AND PACK DOWN
• HANDLING THE WING ON THE BEACH
• ENTER / EXIT THE WATER
• SELF RESCUE
• ROW RULES
• RIDE ON KNEES
• RIDE STANDING
• PUMPING / GETTING ON THE HYDROFOIL
• RIDE UPWIND / DOWNWIND
• FOOT CHANGE
• JIBES
• TACKS
• CATCHING SWELL
*You will learn and practice part or the full course depending on how many hours of lessons you will book.
PRICELIST
LESSONS
• €130 PRIVATE 2 HOUR LESSON
• €100 SEMI PRIVATE 2 HOUR LESSON
RENTALS
• €40 1 HOUR
• €340 10 HOURS
• €90 1 DAY
• €420 7 DAYS
• €630 14 DAYS

Equipment
INCLUDED
• WING
• BOARD
• FLOATING VEST
• HELMET
• WETSUIT (needed only from December - April)
Wing foiling is one of the fastest growing sports in the world at the moment. By practising the sport you get to enjoy the feeling of freedom by simply using a wing, a board and a little bit of wind. A rider can enjoy the wing foiling in very light to strong wind conditions. Our team will help total beginners develop their independence and push intermediate to advanced riders on achieving their progression goals.
Book your lesson today.
See you in the water!
Enquire and book