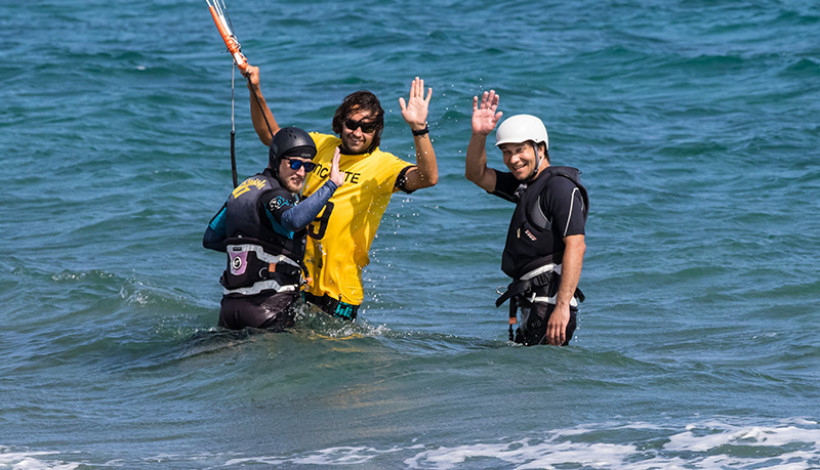 €60 per person
No experience needed. -20% for Groups of 4+
This is a fun introductory to Kitesurfing - no pressure, no strings attached! Great fun for a family or friends day out - try something different!
The Lesson
Great fun for a family or friends day out - try something different!
We start with a background to kitesurfing, flying the trainer kite on land and then going into the water for a session on a big kite. We take you for a body drag to feel the momentum of the kite's power and if we are lucky we can go for a tandem surf! Complimentary cold drink at the end of our session! Max 4 students per instructor. 2hr course
Light wind needed.
Basic swimming skills needed.
Equipment
The school is updated with new equipment every year – we are currently using 2017/18 RRD kites and boards which are at the top of the brand league in their innovative design and safety features.
All safety equipment – helmets, wetsuits, buoyancy aid are provided by the school.
We use wireless, waterproof radio equipped helmets to give you constant guidance even in the water.
We can assist you in your first purchase of complete kitesurfing package at great prices.
During the lessons we provide you with all the necessary equipment: kite, board, harness, floatation vest and a helmet complete with waterproof walkie-talkie so your instructor can guide you while you are practicing in the water.
Now you have a taste of this adrenalin pumping course, you'll be itching to know more!
Enquire and book