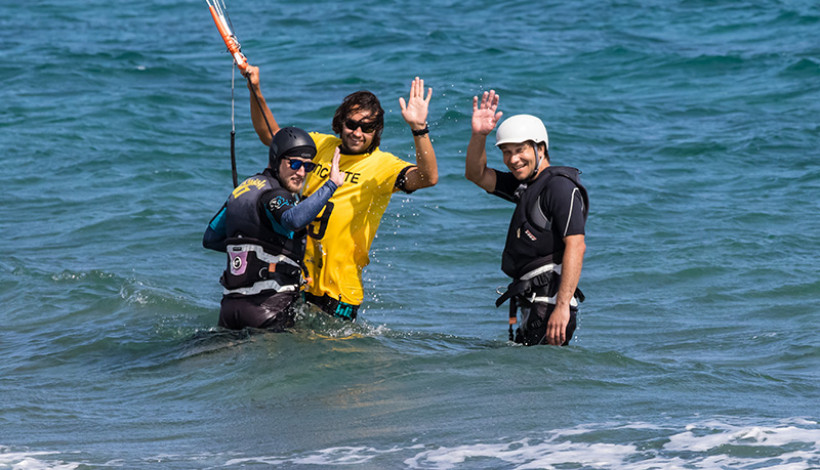 €150
Discover how to "master the wind"!
Let's get you started! An introduction to kite flying and control.
The Lesson
Duration: Approx 3 hours No experience needed! Basic swimming skills.
You will learn about wind direction and speed as well as the important safety precautions all kite surfers must take.
You will learn how to set up your kite correctly, launch and land it safely and give you plenty of flying time in the sea.
Through the lessons you progress step by step and only move to the next level when you have mastered the previous one.
To be able to start practicing safely without supervision, you will need to have completed a total of 10 hours of lessons approximately.
This course is done in groups of up to 3.
Equipment
The school is updated with new equipment every year – we are currently using 2019/20 RRD Kites and boards which are at the top of the brand league in their innovative design and safety features.
All safety equipment – helmets, wetsuits, buoyancy aid are provided by the school.
We use wireless, waterproof radio equipped helmets to give you constant guidance even in the water.
We can assist you in your first purchase of complete kitesurfing package at great prices.
During the lessons we provide you with all the necessary equipment: kite, board, harness, floatation vest and a helmet complete with waterproof walkie-talkie so your instructor can guide you while you are practicing in the water.
We guarantee you will be itching for the next course!!
We will advise you on weather conditions and availability for your requested period and answer all other possible questions you may have.
Enquire and book