THE INDEPENDENT COURSE WITH BOAT ASSISTED INSTRUCTION
back to all lessons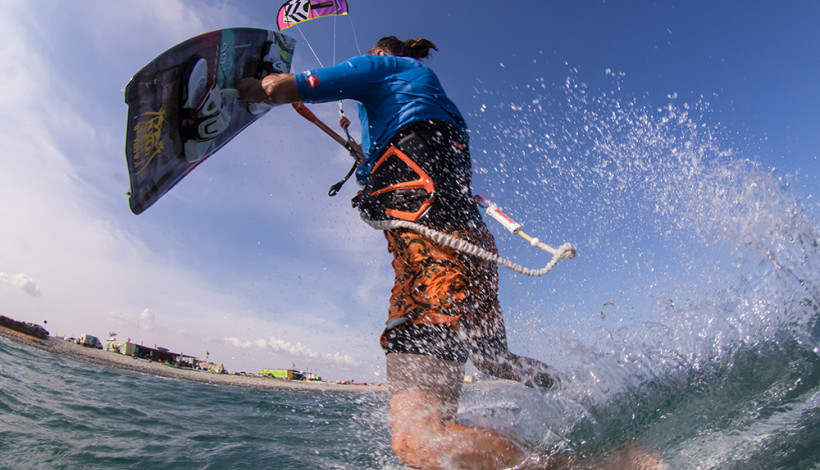 €550
We are the only kitesurfing school in Cyprus to offer open water boat assisted instruction which has been proven to aid your progression. Our experienced boat handler will take you and your instructor away from crowded water and potential hazards!
Private and Semi-Private bookings. The most efficient way to gain your kitesurfing independence and offers fantastic value for money. After your course has finished we include 2 hours of full equipment rental for you to practice everything that you have learnt as an independent kitesurfer.
The Lesson
Available from 1st April - 1st November
7 hours - Private (1 student, 1 instructor) - 550€
9 hours - Semi-Private (2 students, 1 instructor) - 550€ per person
This course is the most efficient way to learn to kitesurf. By utilizing our boat service as part of your lessons you will avoid other beginners in the general teaching zones. It removes this risk from any coastal hazards such as rocks and stones. Learning with boat assistance gives you freedom and space allowing you to drift downwind removing the stress of other nearby kitesurfers and obstacles.

Spend more time practicing and less time walking. The space in the teaching zones are restricted, therefore the distance you have to practise each set of skills are limited. Normally this would require regular walking back to the starting point to begin your cycle of activity again. Learning with boat assistance in open water avoids all this allowing you to spend more time under the kite perfecting your skills.
No experience needed! Basic swimming skills.
Covers IKO Level 1 & 2 criteria with the aim to make you a confident, safe and independent kitesurfer ready to continue practicing this adrenalin pumping sport by yourself.
Within the hours of your course you will learn wind theory, basic kite control, body dragging, self rescue, water relaunch and the waterstart. This is the most realistic and safest way to gain your kitesurfing independence.
Your second and third lessons are taught from the boat in open water with our qualified IKO instructors and our experienced, certified boat handler.
To help boost your progression this course includes 2 hours full kite equipment rental after successful completion of your course worth 40€.
Equipment
The school is updated with new equipment every year – we are currently using 2019/20 RRD Kites and boards which are at the top of the brand league in their innovative design and safety features.
During your lessons we provide you with all the necessary equipment: kite, board, harness, flotation vest and a helmet complete with waterproof walkie-talkie so your instructor can guide you while you are practicing in the water.
All safety equipment – helmets, wetsuits, buoyancy aid are provided by the school.
We use wireless, waterproof radio equipped helmets to give you constant instruction and feedback even in the water.
We can assist you in your first purchase of kitesurfing equipment at great prices.
This is our most popular course offering you great value for money. Within the allocated hours, we aim to help you reach the waterstart level by teaching according to the International Kiteboarding Organisation standards and methodology. You can expect you to reach a level of independence to practice safely by yourself.

.
We include a free 2 hours full kite equipment rental to keep you going!

From there, you can continue renting from us or we can help you to buy your first kitesurfing equipment package within your budget!
Enquire and book