EINE LOCKERE FUNNY EINFÜHRUNG IN DAS KITESURFEN!
back to all lessons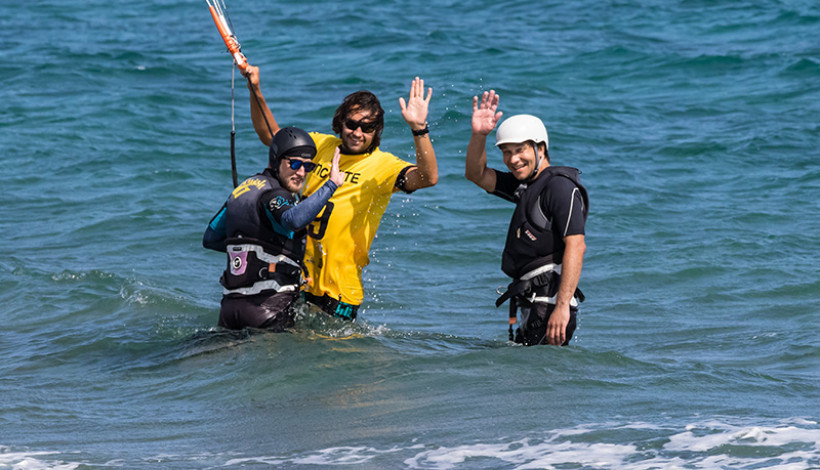 €60 per person
Keine Erfahrung erforderlich. 20% Rabatt für Gruppen ab 4 Personen
Dies ist eine lockere Einführung in das Kitesurfen - kein Druck, keine Erwartungen! Mega fun für einen Familien- oder Freundesausflug – Probiere etwas anderes aus!
The Lesson
DIE LEKTION · Riesen Spaß für einen Familien- oder Freundesausflug - Probiere etwas anderes aus! · Wir beginnen mit den Grundlagen des Kitesurfens. Danach lassen wir den Übungskite an Land fliegen und gehen dann mit einem größeren Kite für eine Session ins Wasser. Wir nehmen dich zum Bodydrag mit, um dir die Kraft des Kites zu zeigen. Mit etwas Glück können wir im Tandem surfen! Kaltgetränk for free am Ende unserer Session! Maximal 4 Schüler pro Ausbilder. 2-Stunden-Kurs · Leichter Wind erforderlich. · Grundlegende Schwimmkenntnisse erforderlich.
Equipment
Unsere Schule wird jedes Jahr mit neuer Ausrüstung ausgestattet - Wir verwenden derzeit die Kites und Boards 2019/20 RRD, die mit ihrem innovativen Design und ihren Sicherheitsmerkmalen an der Spitze der Markenliga stehen.
Die gesamte Sicherheitsausrüstung - Helme, Neoprenanzüge, Schwimmhilfen - wird von der Schule zur Verfügung gestellt.
Um dir auch im Wasser ständig Orientierungzu geben, verwenden wir kabellose, wasserdichte undfunkgestützte Helme.
Wir sind gerne beim Kauf deines ersten günstigen Kitesurfing-Komplettpaketes behilflich.
Während des Unterrichts stellen wir dir die gesamte notwendige Ausrüstung zur Verfügung: Kite, Board, Trapez, Schwimmweste und einen Helm mit wasserdichtem Walkie-Talkie, damit dein Lehrer dich beim Lernen im Wasser anleiten kann.
Now you have a taste of this adrenalin pumping course, you'll be itching to know more!
Enquire and book