SURFHOUSE BEACHSIDE ROOMS
€20
back to all deals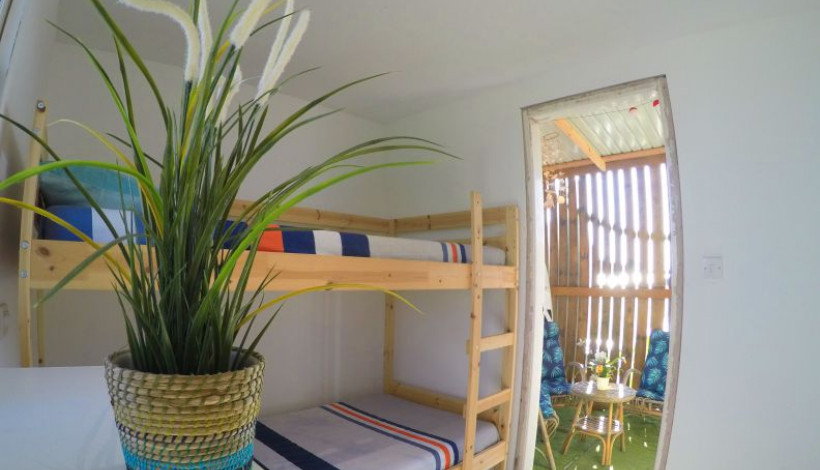 WAKE UP RIGHT ON THE KITE BEACH AND MAXIMIZE YOUR HOLIDAYS WITH KAHUNA SURFHOUSE ACTIVITIES.
Back to basics, away from the city buzz, in the comfort of the sea breeze in Cyprus. Kahuna Surfhouse rooms are literally on the beach or we should better say kite beach. The whole essence of the Surfhouse is relaxed and laid back for the ultimate escape yet with enough energy and good vibes from the local and tourist visitors. Our kite spot is all DIY created with lots of love and natural materials offering a cosy feel. By booking a stay in one of our beachside rooms you will have all our amenities as well as the natural elements on your doorstep.
Details
INFO
• 10M FROM THE SEA
• EACH ROOM SLEEPS 4 PEOPLE
• SHARED ROOMS
• COMMUNAL KITCHEN
• SHARED BATHROOM
• BEACH BAR SERVICES
• FREE WIFI
• 12VOLT ELECTRICITY IN THE ROOMS
• ELECTRICS CAN BE CHARGED BY USB ONLY
• MAY - OCTOBER AVAILABLE ELECTRICS CHARGE AT THE SCHOOL
• FOOD DELIVERY OPTIONS
• KITESURF, SUP & SURF EQUIPMENT AVAILABLE FOR RENTAL
Staying at Kahuna Surfhouse beachside rooms is an experience on it's own, suitable not only for kitesurfers but for anyone. Experience the island beach life at its best, try new sports and activities or just relax, meet new people and have a good time by the sea.

Book your stay with us!
See you at the beach.
Enquire and book