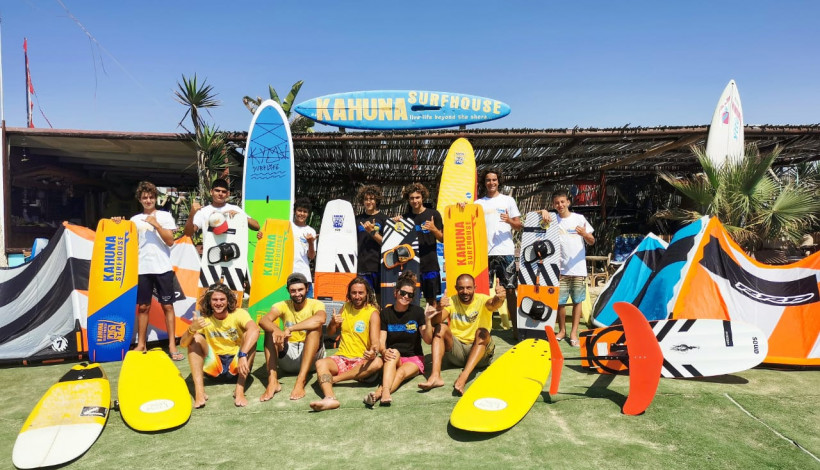 €590
An all inclusive summer camp for 5 days/ 4 nights. Learn to Kitesurf, Surf, Stand Up Paddle, Windsurf aaand so much more!
The aim is to learn water board sports and take advantage of the beautiful Mediterranean Sea that surrounds the island. We have an action packed week designed for the kids to have fun, get active and learn new non traditional but ever popular watersports.
Details
When is the camp?
This year the camp is taking place in July and are on offer as follows:
Week 1:28th June - 2nd July 2021 Progression Camp* FULLY BOOKED
Week 2:5th July – 9th July 2021
Week 3:26th – 30th July 2021
*To attend Progression Camp you must have attended Kahuna Surf Camp before.
All inclusive: Food, Drinks, x1 Kahuna Tshirt, shared room accommodation at Kahuna Surfhouse

Insurance included

All equipment and equipment school insurance included.

Primary language during the camp is English
Staff:
Activities Leader/ Camp coordinator: Liam Iacovou (Group Leader at Club Jubilee and Kitesurfing instructor for 8 years)
Director/ Chief Instructor: Elias Mantovanis (Owner and Director of Kahuna Surfhouse/ 20 years as an IKO qualified kitesurfing instructor)
Team Leader/ Health & Welfare: Angela Iacovou (Owner and Manager of Kahuna Surfhouse)
Equipment
This is a truly unique and special summer camp. There is not one like it in Cyprus and we strongly believe that the team effort, group activities and stimulation that this week will give to young boys and girls will be unforgettable.
Email us on [email protected] for any enquiries and to book your place. (or use the form below)
We work on a first come first serve basis, and dependent on availability you will be contacted and booked into an available space.

We look forward to hearing from you!
Enquire and book