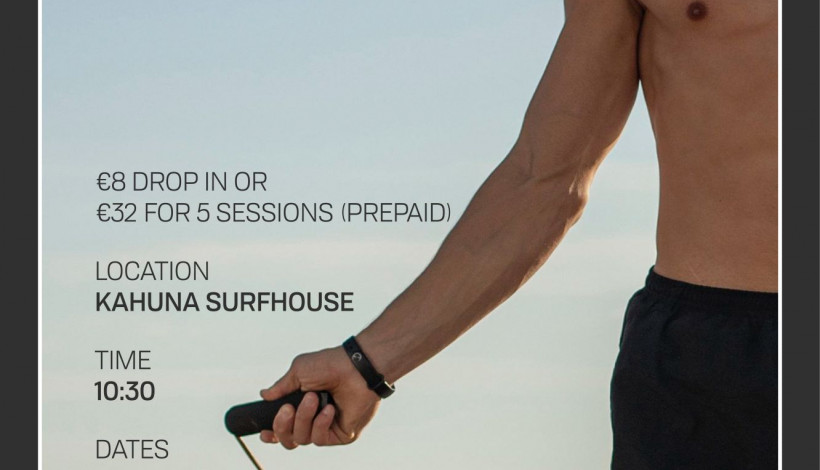 from €6
EVERY SATURDAY 10:30
Lets stay fit outdoors! Every Saturday morning at 10:30 we are circuit training in the amazing setting of Kahuna Surfhouse. Nothing quite like it! Let's keep those summer vibes going! All fitness levels welcome.
Details
DATES:
SAT 30/10/21
SAT 06/11/21
SAT 13/11/21
SAT 20/11/21
SAT 27/11/21
IT'S IMPORTANT TO KEEP OUR FITNESS LEVELS UP IN THE WINTER MONTHS. WE ALSO SEEM TO FORGET THE OUTDOOS AND FORGET THAT CYPRUS IS NEVER TOO COLD OR TOO RAINY TO EXPERIENCE OUTDOOR ACTIVITY. WE WANT TO KEEP YOU MOTIVATED IN A FUN ENVIRONMENT AMONGST ALL LEVELS OF FITNESS EVERY SATURDAY MORNING.
GET OUTDOORS. GET FIT. HAVE FUN DOING IT! GYMS CAN BE FOR THE WEEKDAYS!!
Equipment
€8: DROP IN

€32: 5 SESSIONS PREPAID

SIGN UP:
DM ANGIE 99666708
Enquire and book